Use this page to learn about the Assignment Alerts page. This page shows the following:
If an assignment is overdue = contact the student to check their status
If the assignment is blocked = the student failed to meet the pass threshold in the allowed number of attempts (Only if the school has Progress Blocking enabled for lessons, quizzes, and/or tests)
If an assignment has been graded
If an assignment has been automatically re-assigned because the student did not meet the pass threshold and has attempts remaining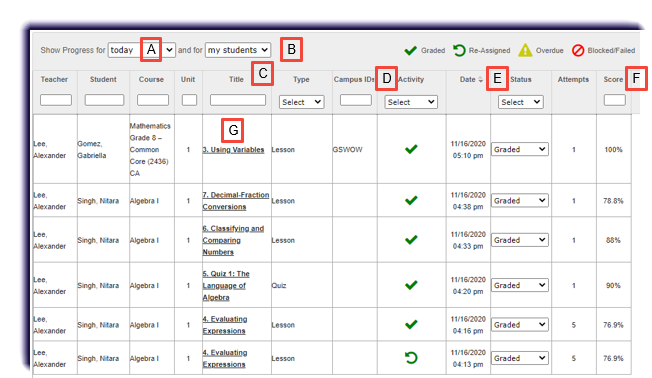 Item
Tool / Feature
Description
A
"Show Progress for" filter*
By default, the assignment alerts for the time frame of today are displayed. Select a different time frame to see assignment alerts for the selected time. Display alerts can go back as far as 30 days.
B
"and for" filter*
By default, the assignment alerts for my students are displayed. Select All students is another option.

Only Super Teachers and Admins have this filter. For Super Teachers with the "Restrict to Campus" permission enabled, for the all students viewing filter, the results only show students that have the same Campus IDs as the Super Teacher. This section only appears for Super Teachers or Admins.
C
Filter or search the list*

In the row immediately below the column headings are drop-down lists or blank text boxes. These blank boxes are smart search boxes. Depending on the column heading, select an item from a list, or start typing in any smart search box and once you have entered at least three characters, the list is filtered to match the entered characters.

To sort, click to the right of a column heading name to display an ascending/descending control.

D
Activity column
Symbols visually indicate the assignment's current progress state. These symbols are explained in the legend at the top.

Based

on the assignment's status, educators can decide whether

or not they need to take action.

E
Status column
Changes the status of assignments, for example, to allow a student to skip an overdue assignment.
F
Score
The search box can be used to filter for a specific score. These are scores assigned by the system or manually entered by the teacher.
G
Assignment Title
Click an assignment title to view contents of and manage assignments in the Teacher Assignment view. In the Teacher Assignment view, see questions, student's answers, lesson content and more.
Note
*Depending on the filter used, do the following:
Delete the characters in the text box, and press Enter.
For the drop-down list column, choose the Select option. The list automatically resets itself.
Tips
Adjust the width of the columns. To do this, hover over the cursor (pointer) over the line to the right of each column until a two-way arrow appears. Click, hold, and drag the column width.